Born With a Moustache in a Supernova
Brunswick Street Gallery
Video, Exhibition design, Graphic design, Artwork
---
Born With A Moustache In A Supernova was a personal solo exhibition that featured interactive, immersive experiences, graphic design, video and original artworks and was presented by Brunswick Street Gallery in Fitzroy, Melbourne.

The exhibition was a celebration of the resurgence of interest in analogue technologies and explored ways that we might try to restore balance in our digital world with tangible, physical objects and interactive, communal experiences.

︎web banner, flyer design




︎"How to Create a Supernova", exhibition view #1




In the exhibition visitors were able to create their own supernova by placing custom-made puzzle pieces on a 4m wide velcro canvas. The pieces were a variety of shapes, colours and textures representing the elements that are created during a supernova explosion. Audiences were encouraged to interact with the artwork and their fellow visitors by trading and gifting puzzle pieces to others to help build a composition together.

As the exhibition progressed the artwork changed, morphed and evolved into ever increasing complexities and varieties, mirroring the birthing of new stars, planets, solar systems and (potentially) life that occurs in the aftermath of a real supernova.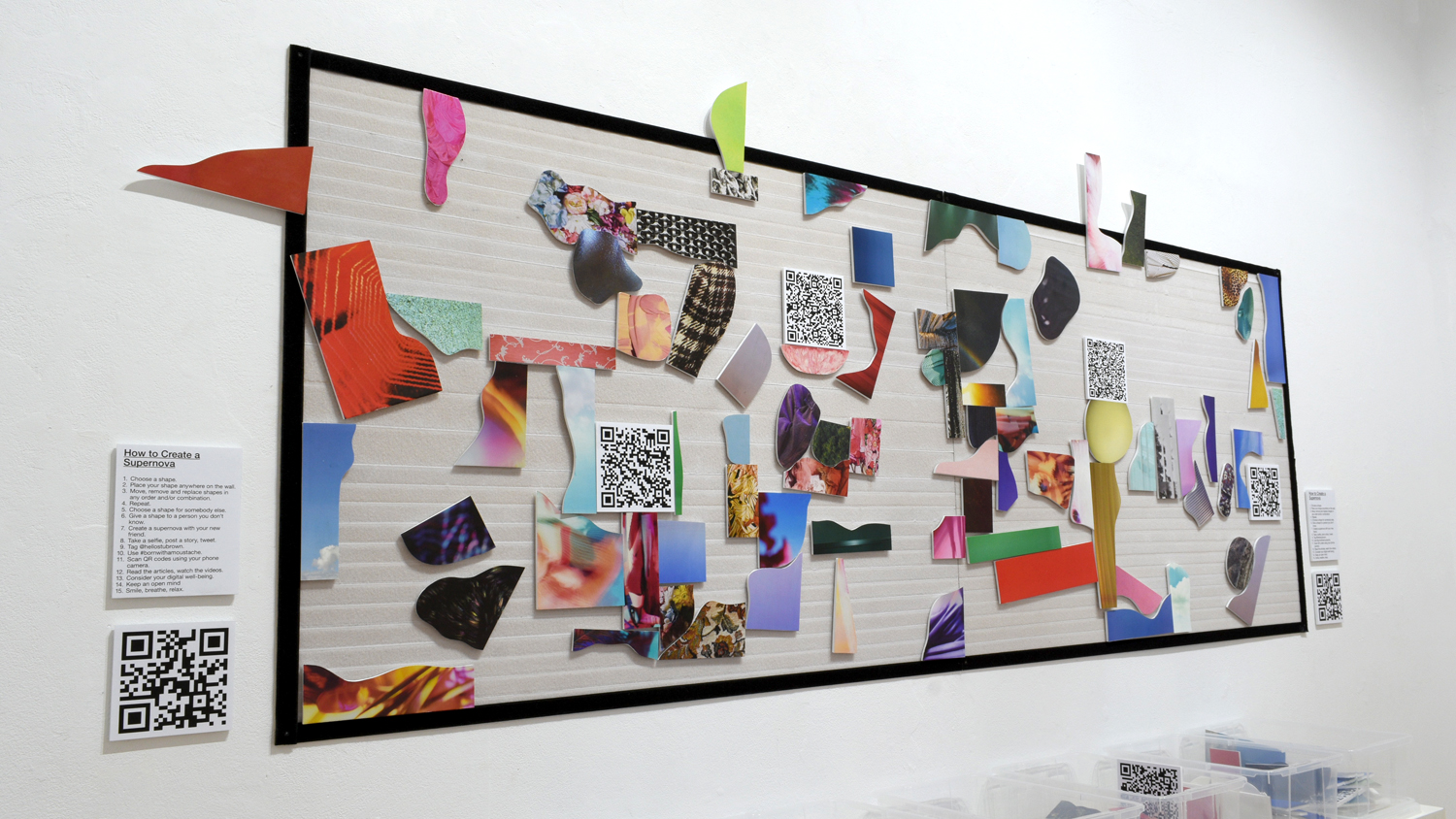 ︎"How to Create a Supernova", exhibition view #2




The exhibition takes it's title from a song by US rock band Clutch called Profits of Doom. "Born With A Moustache In A Supernova" is the opening line of the song. I worked with musician and composer Imogen Cygler and performers Jayde Kirchert, Tomas Parrish and Jack Wunsch to create a dance performance that explores the final moments of a giant star on the brink of supernova. The narrative also reflects on the overwhelming connection that we all have to everything in the universe.

Three works in the show contained QR codes that link to the video in three parts. You can enjoy the videos below ︎




QR codes featured prominently throughout in the exhibition as a method to communicate to visitors how to understand and interact with the artworks.

I created stop-motion animations that show the lifecycle of a star and how atoms join together to make molecules and how that leads to increasingly complex shapes and forms. Other codes linked to making-of information such as timelapse videos of how the artworks were created.
Create Your Own Supernova velcro wall. The collages represent the variety and abundance of matter in the universe that is created from the same basic elements created during supernova explosions. A fact that means that we are all inextricably linked to everything in the universe.


"You are not IN the universe, you ARE the universe, an intrinsic part of it. Ultimately you are not a person, but a focal point where the universe is becoming conscious of itself."

― Eckhart Tolle, A New Earth




︎ 'Rabbi', 'Caliph' & 'Bishop' - paper collage on board, 594x420mm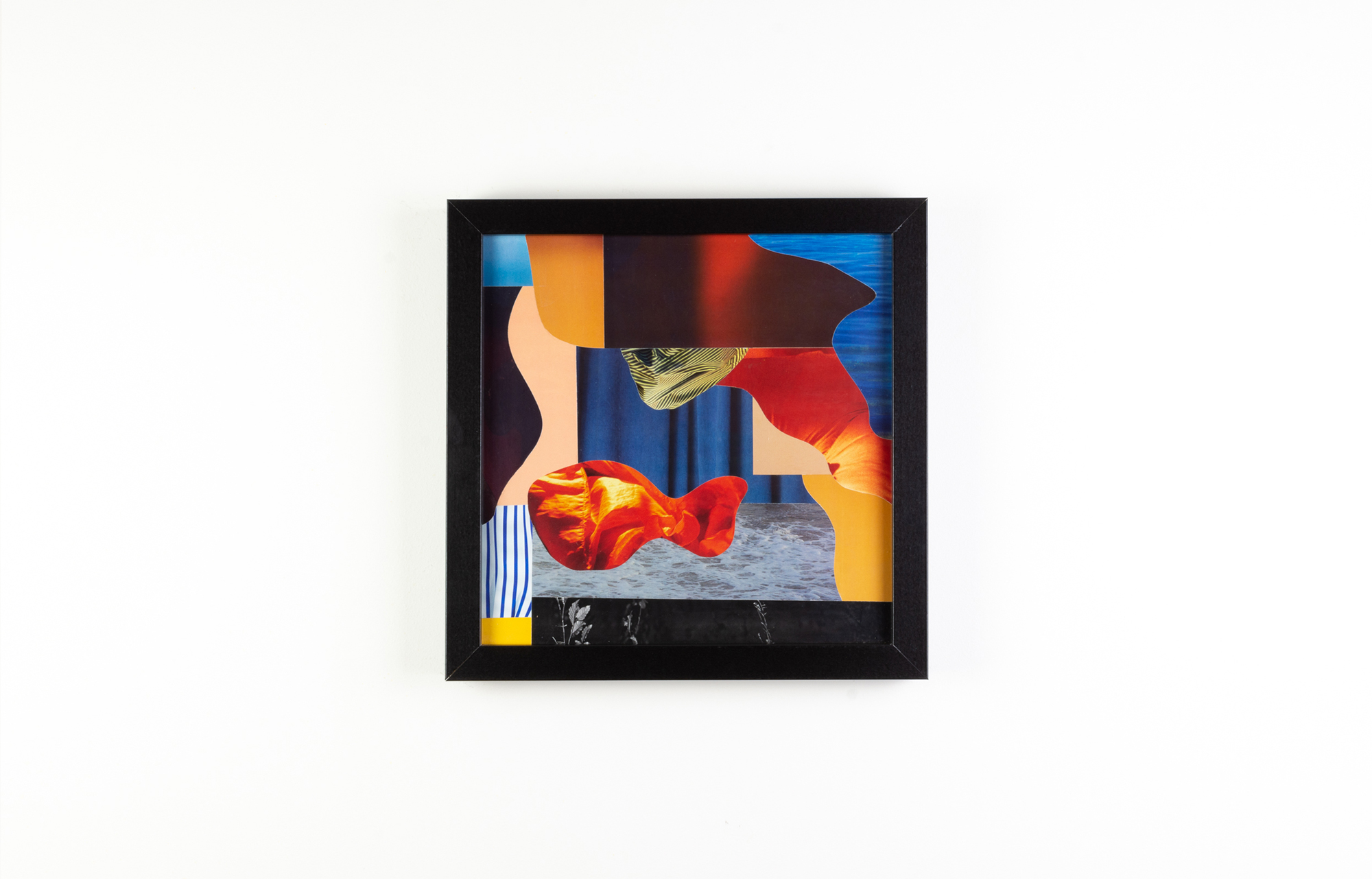 ︎30x30x30x30 series, paper collage on board, 30x30cm




Thanks to Jacqui and Steve at Brunswick Street Gallery, Jayde Kirchert, Jack Wunsch & Tom Parrish and Imogen Cygler for her exquisit music.




---